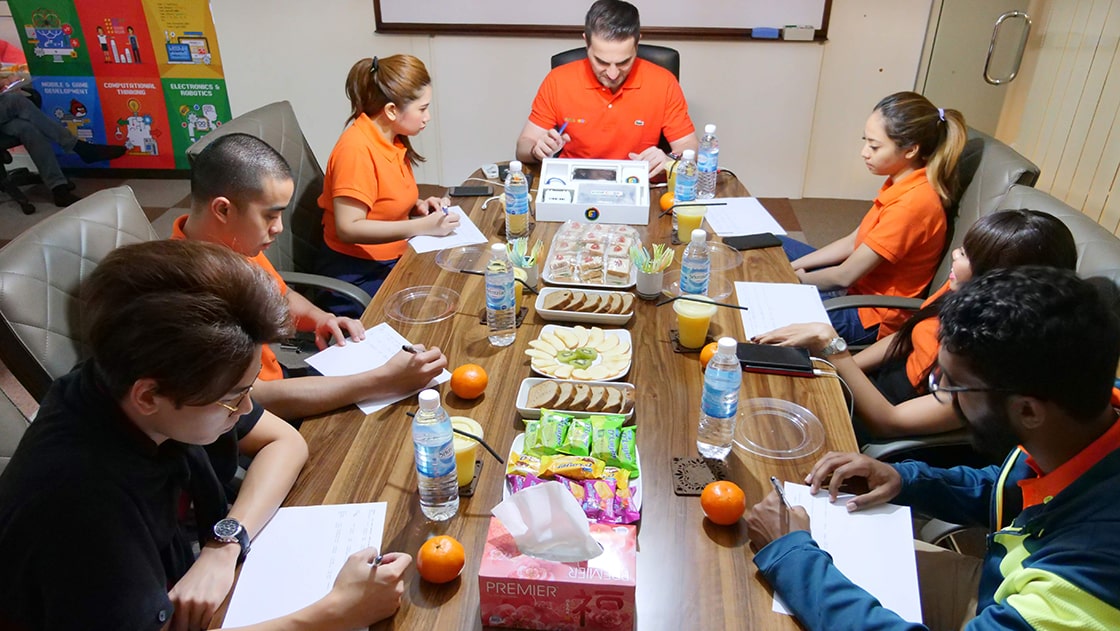 ---
The people at KidoCode have made it what it is today. A place, where no one feels like they're working, but where everyone is striving towards the same goal. Our people are intelligent, determined, come from all walks of life, speak dozens of languages and truly reflect the community we're trying to build. Beyond the fun we have at work, our team spends time working out at the gym, going out for drinks on fridays and watching movies. Lots of movies. Seriously.
KidoCode offers great benefits to all who join our fantastic family. The perks range from free movie tickets to free gym membership as well as allowances for travel to work. Check out our available roles to see where you fit in our growing family.
Please do not hesitate to contact us if you have any further questions.
Human Resource Department : +60328569994
---
Departments
Sales Executive/Consultant
---
We are looking for talented sales executive/consultant to engage our customers and help us to continue to grow the business. Sales Executive responsibilities include discovering and pursuing new sales prospects, negotiating deals and maintaining customer satisfaction.
REQUIREMENTS
High school diploma/equivalent qualification
3+ years of sales experience
MAJOR TASKS
Setting sales goals and developing sales strategies
Researching prospects and generating leads
Contacting potential and existing customers in online meetings, on the phone, by email, and in person
Handling customer questions, inquiries, and complaints
Preparing and sending quotes and proposals
Managing the sales process through specific software programs
Building and maintaining of customer relations
Meeting daily, weekly, and monthly sales targets
Participating in sales team meetings
---
Senior Software Developer
---
We're looking for an ambitious and adaptable Python developer experienced in the ins and outs of development in a team setting. A career as a KidoCode Coder offers many different opportunities. Our ideal candidate is someone with a self motivated tinkering spirit and who is comfortable diving into professional development life while rapidly learning to engineer solutions using a mix of open technologies and our own proprietary framework.
TASKS AND RESPONSIBILITIES
Proficiency in Python and web development experience using client side framework such as jQuery, and AngularJs.
Develop websites such as parental and admin control panels, as well as dynamic components.
Contribute to project plans, status reporting, effort estimation and resource task planning.
Test, provide analysis, make recommendations and resolve bug issues
Be a part of a team of top Python developers with the opportunity to learn and share
---
Android Mobile App Developer
---
Your primary focus will be the development of Android applications and their integration with back-end services. You will be working along-side other developers working on different layers of infrastructure. Therefore, commitment to collaborative problem solving, sophisticated design, and creating quality products is essential.
TASKS AND RESPONSIBILITIES
Design and build advanced applications for the Android platform
Collaborate with cross-functional teams to define, design, and ship new features
Work with outside data sources and API's
Unit-test code for robustness, including edge cases, usability, and general reliability
---
Social Media Manager
---
The Social Media Manager will implement the company's Social Media marketing. Administration includes content strategy, develop brand awareness, generate inbound traffic and cultivate leads and sales. The Social Media Manager is a highly motivated individual with experience and of a passion for designing and implementing KidoCode's content strategy, creating relevant content, blogging, community participation, and leadership.
TASKS AND RESPONSIBILITIES
Writing: Social Media Managers will need to know how to write effective copy in a lot of different styles, for websites, Twitter, Facebook, etc. Knowledge of writing for Search Engine Optimization (SEO) is also needed.
Research: Social Media Managers need to know what is happening in the fast changing world of social and digital media, what competitors are doing and what new measurement tools are being used.
Digital Marketing Specialists
---
We want to build a ship and a great crew to company us into our adventure. We recognize our team members and value them based on mutual trust. Our big picture is providing a better education level for children and teenagers and changing our world. If you are passionate, well experienced, and, more importantly, a self-driven person then you will be welcome here
TASKS AND RESPONSIBILITIES
Plan and execute all web, SEO/SEM, email marketing, social media and display advertising campaigns
Design, build and maintain our social media presence
Measure and report performance of all digital marketing campaigns, and assess against goals (ROI and KPIs)
Identify trends and insights, and optimize spend and performance based on the insights
Brainstorm new and creative growth strategies
Collaborate with internal teams to create landing pages and optimize user experience
Must have experience in Google Ads Word, Facebook Ads, MailChimp, Instagram advertisement, etc.
Videographer
---
We are looking for a videographer to work as a video-editor and trainer for all the steps of preparing the videos for utilizing in Youtube channel and social media.
TASKS AND RESPONSIBILITIES
Directs educational video, shooting, editing, and prepares for social media
Managing video contents for YouTube channel, Facebook, etc.
Edit company video productions and attend to video related activities
Produce promotional videos and distribute finished projects on company
Making training materials and managing the roll-out of new projects
Delivering training programs and assessing the training
Manipulate and edit film pieces in a way that is invisible to the audience.
---
Receptionist
---
We are looking for a receptionist. The first impression is always the most important. Can you make a good first impression? Front desk receptionist are the first people that customers will see when entering a business. Welcome visitors by greeting guests and offering them a beverages or greeting them on the telephone answering or referring inquiries. You will be in charge of giving clients directions to various parts of the office. Provide general office support with a variety of clerical activities and related task. Contacting employees regarding visitors, taking messages, sorting and distributing mail.
TASKS AND RESPONSIBILITIES
Greet and welcome guests as soon as they arrive at the office.
Direct visitors to the appropriate person and office.
Answer, screen and forward incoming phone calls.
Ensure reception area is tidy and presentable, with all necessary stationery and material (e.g. pens, forms and brochures).
Provide basic and accurate information in-person and via phone/email.
Receive, sort and distribute daily mail/deliveries.
Maintain office security by following safety procedures and controlling access via the reception desk (monitor logbook, issue visitor badges).
Order front office supplies and keep inventory of stock.
Update calendars and schedule meetings.
Managing conference room.
Arrange travel and accommodations, and prepare vouchers.
---
IT Trainer
---
A career as a KidoCode trainer offers many different opportunities. It cover basic keyboarding and computer functions for teenagers or their parent and teachers, updating their knowledge about our trainings. Also, you may teach more complicated elements of computer science to the youth. KidoCode's trainer duties include creating lesson plans, evaluating student performance, maintaining classroom records, meeting with parents, teachers and other professionals, updating curriculum, and participating in campus events. Additional research, supervisory or organizational duties may also be required depending upon the expectation of the employing school.
TASKS AND RESPONSIBILITIES
Conducting training sessions covering specified subject areas as assigned
Assisting class manager in identifying student needs
Participate in HR courses for new topics and skills.
Quickly and accurately learn new training material in order to successfully teach assigned courses
---
Want to apply now?
Please fill up the following form by providing your information